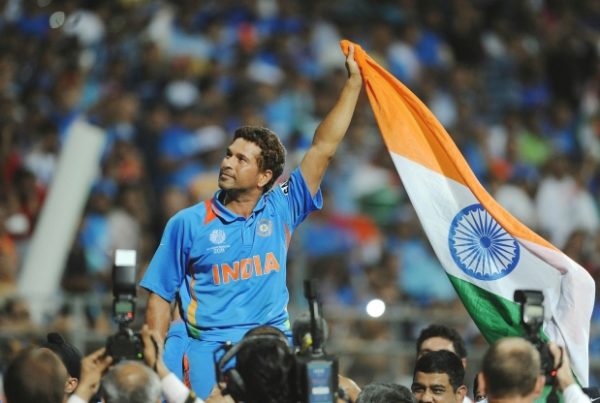 My first memory of Tendulkar was way back in 1989. India was touring Pakistan and the broadcast on Doordarshan was grainy. I grew up in Mumbai and the 16 year old child prodigy was already being talked up in the local newspapers. There was anticipation in the air and the prodigy was expected to just about make it through the series. It is now stuff of legend, how the precocious child-like batsman smashed Abdul Qadir, one of Pakistan's best leg spinners around for sixes and fours. Tendulkar had arrived and in style.
Tendulkar means a lot more than just a sporting icon in India. Like Matthew Hayden says, Tendulkar is now culture. Yes, he is part of modern Indian culture. A culture of excellence, hard word, ambition tempered by fair-play and the occasional emotion.
Anyone in their 40s could be called the Tendulkar generation. The generation that grew up listening to tales of Sunil Gavaskar's feats but secretly admired the West-Indian dasher Viv Richards for his audacity and stroke-play. India was coming of age, the young were born decades after India had become independent and did not carry any colonial baggage.
The economy too was opening up and the young Indian was looking to take risks be audacious. Tendulkar embodied audacity and risk taking in his batting. But as if the past had not to be forgotten, he had also managed to fashion a near perfect batting technique for defensive stroke-play.
That Tendulkar generation is now in its 40s. But the Tendulkar generations kept growing. A thirty year old today remembers possibly the best phase of Tendulkar's career from 1998 to 2004 – when he was playing blinders against Australia in Sharjah and square cutting Shoaib Akhtar over point for a six during a world cup match. All this while avoid endorsements from tobacco companies. Bats with MRF stickers sold like hot cakes. This generation not only admired Tendulkar but wanted to become him.
The 20 year old generation looks at Tendulkar a little differently. As the tough competitor who silently goes about doing his job without talking too much to the press giving interesting quotes. This generation looks at Sreesanth's antics on the field and Gambhir – Kohli on-field spat and say "Tendulkar and Dravid would never do this". This generation has enough audacious role-models but admire Tendulkar for being understated.
There will be critics and there will be accolades for Tendulkar written. Some will settle for nothing less than "God" to describe him, some will try to cut him down to size. But the several Tendulkar generations will have their own Tendulkar story, their own Tendulkar moment to remember and their own reason to toast him on his 40th birthday today.