Way back in 1993 in January/February – England toured India. They were considered to be the better test side but ended up losing the 3 test series 3-0. Today with a 4-0 victory over India, England has avenged its defeat. They have also moved to the top of the ICC Test Rankings, while India which went to England as #1 has not slipped to #3.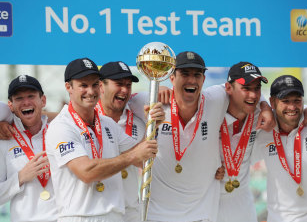 Here are five reasons India lost the series 4-0
Batting Flopped: India's best batsman in this series was Rahul Dravid who scored 3 centuries. No one else scored a hundred and the Indian team scored 300 runs only once.
Bowling Flopped: The bowling derailed from the first day onwards. Zaheer Khan was out of the first Test with an injury, Harbhajan Singh was similarly gone after the second. Amit Mishra did not impress with the ball. Praveen Kumar was probably the most impressive and was leading India's bowling attack. Considering he has made his test debut only a month ago, leaves a lot to desire about India's bench strength.
Bad Selections: Rohit Sharma, arguably India's best batsman from the younger lot, was not picked to play Test matches. Munaf Patel was left stranded while a late addition into the team like RP. Singh was immediately picked for a match.
Too Much Cricket and Injuries: India did not play a single test match without injury problems. The first test saw Zaheer Khan injured, second test saw Harbhajan Singh injured. Third Test started without many more injuries but it ended with Praveen Kumar being injured. After the fourth Test Sehwag and Ishant Sharma are returning to India after injuries. The number of players being injured probably resembles a rugby team and not a cricket team. This is probably because of way too much Cricket being played over the past couple of years.
BCCI: The BCCI seems hardly interested in Test cricket. There is no explanation possible for a tour of England with only a single practice game. Guess what India is touring Australia in December this year, and according to schedule, India has only one club level practice game before the Test series.