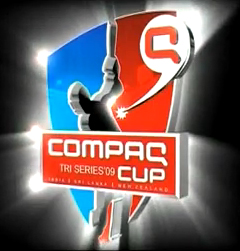 The Compaq Cup must have really given India a nice look into what they should and should not do when they are in South-Africa. With Gambhir injured on the eve of the Tournament Dinesh Karthik opened the innings for India along with Sachin Tendulkar for the first two games.
Rahul Dravid making his way back into the ODI side was also a important development and his solidity at the top must have made the selectors smile. He was not fluent but in South Africa where India take part in the Champions Trophy  which is going to be held on the fast and bouncy tracks of South Africa, Rahul Dravid's solidity is a much needed asset.
The bowlers in the series came short except in the first match againt New Zealand where they bundled out the Kiwis for a mere 159. They came short allowing Sri Lanka a score of over 300 in the second game.
The final was again set up by India with a score of 319 led by Sachin Tendular scoring a imaginative 138. The game was set by a fifty by Yuvraj Singh and the bowlers even though found it hard to restrict the Sri Lankan batsmen managed to take regular wickets to allow India to win the final and the Compaq cup.
The workout must be nice and it has been a while since India had won a tri-series tournament. This must have helped the Indian team rest better until 22nd October when the Champions Trophy starts in South-Africa.
Image: tv.burrp.com