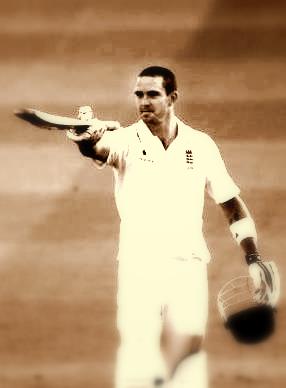 When Pieterson made his debut in Test cricket he played against South-Africa in South-Africa. Only a few years before that trip Pieterson was South-African boy trying to make it into the local first divisions teams as an off-spinner.
In South-Africa the crowds jeered him and even called him a traitor but the debutant before the game told the media that crowd heckling him would only want him to do better.
The 5-Match ODI series started and Kevin Pieterson scored a 108 of 96 balls in the second game which was a tie. The third game he scored 75 runs and the in the fourth game he set a England record for fastest hundred with 69 ball century. The crowds had not let up until then, even booing or turning their backs on Pieterson whenever he acknowledged the crowds for his centuries.
In the final game at England was 32/3 when Pieterson walked to the crease and started to play his usually aggressive style of cricket and ended up scoring 116 runs. The series had ended with Pieterson  scoring 454 runs in five innings. The crowd from being downright hostile had become respectful and gave him a standing ovation at his final game of the series.
Pieterson is surely amongst the most exciting batsmen in the world. His 4647 Runs at an Average of 49.96 in Test cricket is surely testimony to his ability to be the best. His switch hits are still one amongst the most exciting yet risky shots invented this decade.
But the man has a heart of a lion, and most Indian fans won't forget the how when England who were mulling not returning to India after the terrorist attacks in Mumbai in November 2008. Pieterson was the man who had lead the team back to India and kept the cricket tour alive.