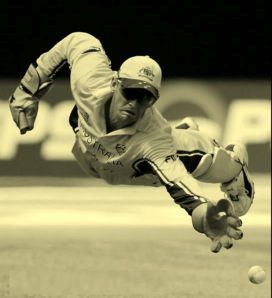 When you are coming up with a list of the best batsmen to play the game since 2000, there is hardly a way you can miss Adam Gilchrist.
If cricket was a battle field then Gilchirist was Australia's tank brigade. He would cut through the enemy ranks fast and furiously, deflating them from the word go. If Adam Gilchrist arrived to the party be it a Test match or a ODI Australia would win easily and handsomely.
Still remember his fantastic hundred in the 2007 Worldcup finals. Sri-Lanka was looking for a repeat of their 1996 Final win against Australia and Australia were on a roll looking to win their 3rd World Cup in a row. Gilchrist has scored almost nothing right through the tournament. His place in the team was even being questioned. On the day of the final out walked Gilchrist like a street-fighter and scored A 149 runs of 104 balls. He hit a 13 boudaries and 8 sixes.
Gilchrist scored 5570 runs at an avg of 47.60 which is higher than most other accomplished test batsman. Often missed is the fact that he was a world class wicket keeper and took 379 catches 37 stumpings in Test cricket. If I had to come up with the perfect description of Adam Gilchrist it surely would be Rocket-man. He rocketed Australia to victory everytime he batted.