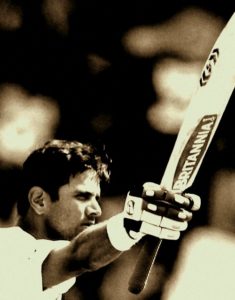 Rahul Dravid has not been called the Wall for nothing. Considered to have near perfect technique he broke into the Test arena scoring 95 and 84 in his first two games against England. He scored them solidly while Ganguly reaped the accolades for his style and class in the same series.
Rahul Dravid took his own time to score his first century. It was in his 12th Test match at Johanesburg. India was touring South Africa and had been completely outplayed on the fast and bouncy tracks of South Africa. Rahul Dravid was showing India how to bat against a battery of pace bowlers South Africa had unleashed against India. His 148 was epic and after than someone in South Africa gave him the nickname 'The Wall'.
The nickname stuck and Dravid lived up to the nickname with a characteristic style scoring 10823 runs at an unbelievable average of 52.32. He has scored 26 centuries the most by an Indian if you omit Tendulkar.
In 2005 Dravid took over as India's captain and often his success has been overlooked because of the 2007 World Cup debacle. He did not resign but went to England. Captained India to a series victory in England after 20 odd years and then on his returned he resigned from his captaincy.
Rahul Dravid still plays and has a year if not two left in him. It looks like he will still stand tall amongst other with his characteristic style. In the scenery that is Cricket, Rahul Dravid will stand tall and proud like a mountain often taken for granted but impossible to miss.