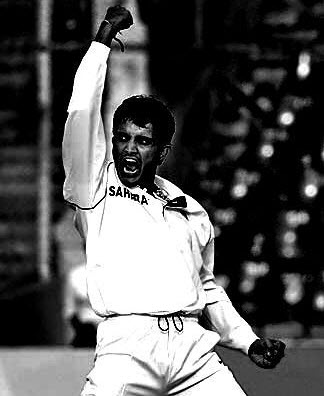 He started his career way back in 1992 in Australia. It was a complete disaster and he went back into the oblivion of domestic Indian cricket. Then in 1996 when Vinod Kambli was dropped for a series in England and the selectors replaced one mercurial lefthander with another from Bengal was taken.
Considered to have weak footwork, not much of a power game and a questionable attitude Saurav Ganguly entered the Test arena with a lot of detractors and a lot of questions. He answered them all with a century on debut and then another in his second Test match. Over the years he rose to become one of the most stylish left-handers in Test cricket and the most profilic run getter in ODIs after Sachin Tendulkar.
After the match-fixing scandal hit world cricket Saurav Ganguly was made captain of the India team. In this role he came into his own. At times brash, agressive and sometimes almost as if he did not care he led a team where young players were brought in and the team was being rebuilt. He led from the front and often rubbed the opposition the wrong way.
One of the most famous encounters Ganguly had was when he made Steve Waugh wait at the centre of the pitch before the toss. This angered Waugh who was on a winning streak that stretched for 16 Tests and one more win would give Australia a series win in India which was dubbed the 'final frontier' by Waugh. The constantly unapologetic Ganguly fought back the Australian strategy of 'seldging' with an Indian brand of 'sledging'. Ganguly did not personally have a great series as a batsman but as Captain he was the only second Captain in history to win a test match even after being told to follow-on. India won the series 2-1 and Ganguly won the respect of his opponents as a tough competitor.
Ganguly lead the team and is the most sucessful captain for India in the number of Test wins. Bouncers troubled his doubtful technique but he hung in with simple guts and got glory. The iconic image of him taking of his shirt and waving it aloft from the dressing room at Lord's when India won the Natwest Series still brings a smile to any cricket enthusiast. He ended his career amassing 7212 runs at an Avg of  42.17 with 16 centuries in test matches and 11363 runs at an Avg of 41.02 with 22 centuries. The records are impressive but more than his records no one forget his style and class because of which he was aptly nicknamed as "God of the Off-Side" by his team mate Rahul Dravid.
Link: cricinfo