I sat down to watch the first match in the T20 World Cup featuring Sri Lanka and New Zealand. I saw some boundaries and sixes being hit. There were a few catches too but the good news is that when someone dived and took a catch it was a 'catch' not a 'Karbonn Kamaal Katch' and neither were those big hits over the fences called 'DLF Maximums' they were simply called 'Six'. IPL can truly be forgotten now, its time for International cricket all over again.
The T20 World Cup started off with a thrilling match. The venue was Georgetown, Guyana which is the only cricket ground on the South American continent. The match started of quite slowly reflecting the slow nature of the pitch in the middle. The Kiwis bowled a tight line but a brave and courageous innings by Mahela Jayawardene who scored 81 Runs of 51 balls. Sri Lanka ended up with a low but fighting total of 135/6.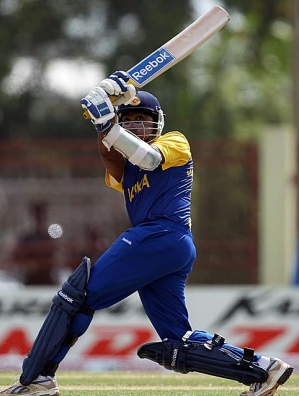 Image credits: Cricinfo.com
New Zealand started of aggressively but were grounded and slowed down but continuously losing wickets. New Zealand finally needed 10 runs to win of the last over and Lasith Malinga was due to bowl. Nathan McCullum the brother of Brendon McCullum the super start T20 batsman decided to arrive to the part and scored of the runs with one ball to spare.
This way New Zealand pick up 2 points and will be expected to top the group as their next match is against Zimbabwe. Sri Lanka now play Zimbabwe and they have to win otherwise they are out of the World Cup. I doubt the Lankans will allow that to happen, but only two days ago Zimbabwe did beat Australia in a practice match.
After the New Zealand vs Sri Lanka match, West Indies squared off against Ireland. Ireland has great memories of winning against Pakistan during the World Cup in 2007. It also was played in the West Indies.
But any such hopes of Ireland were quite easily dashed of by a under strength West Indies who had Chris Gayle, Jerome Taylor and Suleiman Ben on the injured list. Dwayne Bravo led the West Indies and the Windies never really soared with the bat and managed only 138/9. But the West Indies bowling was far too good for Ireland and they were bowled out for a meager score of 68.
Darren Sammy from West Indies took 3 wickets an scored 30 runs and also took 4 catches. No prizes for guessing who was man of the match there.
Tomorrow India take of Afghanistan in St Lucia and Bangladesh take on Pakistan at the same venue.