The ICC T20 World Cup in the West Indies has unraveled two new players. No they do not play for any team and don't bat or bowl or field for that matter. They are not even controversial umpires. They are mathematicians who came up with the Duckworth-Lewis method of calculating target scores in case of rain shortened matches.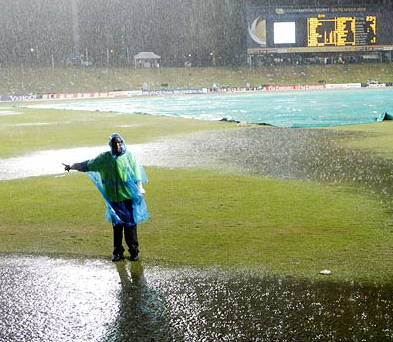 Image Link: Rediff
Duckworth-Lewis method is a statistical method which involved calculating progressive scores based of past scores in One Day Internationals along with using wickets in hand as a resource to score more runs later on in the innings.
Take for instance the match between England vs West Indies. England scored a fantastic score of 191/5 in 20 overs. In the second innings it rained and West Indies had to scored 60 runs of 6 overs. So instead of scoring almost over 9.5 runs an over for over 20 overs it left West Indies to score 10 runs an over for only 6 overs.
I think West Indies can count themselves lucky. I think the problem here is that in a T20 match giving wickets a lot of importance as a resource could be counter-productive unlike in ODIs.
For instance even if a team has lost 6 wickets in 15 overs and has scored 120 runs they can still put up 160-170 runs with the last 4 wickets. The last 4 wickets can be more effective in 5 overs of a T20 innings than a 12 overs of a 50 over match.
So do you think T20 cricket need a different way to calculate scores and chuck the Duckworth-Lewis method atleast in this format of the game. Do let me know through your comments.