The Indian Premier League has done something again that is quite unique. They ave produced a online comic book which covers the 2009 Final between Bangalore Royal Challengers and Deccan Chargers. This is quite interesting and is one of the many unique features of this year's IPL. Some of it has been getting active on social networks to reaching out with the world with You Tube.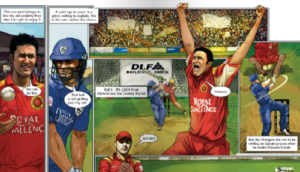 You can view the comic page by page at IPL website. The illustrations are done wonderfully and does capture a lot of the drama and interest that goes on behind a final match. The illustrations are done by Campfire.
I liked the look of the comic and a lot of good detailing had gone into it when it came to the visuals but I felt the drama behind the match and the individuals who make it happen was not so prevalent.
Do look up the comic and go through it. Drop in your comments with your views.