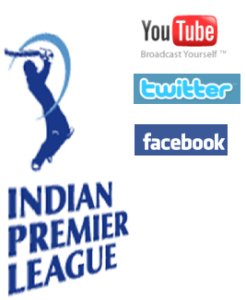 The most different thing about the Indian Premier League as been it's ability to be very accessible. Gone are the days when Indian cricket boards would not have proper websites and when they did have a website it would see more downtime than uptime.
IPL brought in millions and like anything that brings in money it has brought into the game a lot of professionals.
I recently wrote about IPL matches being available on You Tube where you will be able to see the matches live on the net.
There is also a official Orkut page for IPL where Orkut users can take part in discussions along with get access to the latest clips. You can read more about it on OrkutDiary a Orkut specific blog within out rtBlogs network.
Then on Facebook there is an Official IPL page and it does give a lot of updates while a match is going on. It is a fan page and you can have a lively discussion with other fans.
Finally comes Twitter which obviously is the rage amongst people looking for the latest updates on just about anything. You can follow official IPL account on Twitter which gives constant updates when a match is going on.
Well I guess IPL has really shown how to engage the public proactively and get them interested in the sport. I think other sports can take a page out of IPL amazing PR skills. Are you listening Hockey India?