The IPL 2010 season is about to start within the next couple of days. I thought I would publish the calendar for IPL matches to be played this season but I think it would be more prudent and helpful to have a calendar which was interactive as in something with which we could set reminders for following our favorite teams.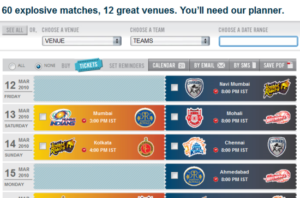 Visit the IPL calendar website and you can look through all the matches being played through the next 7 weeks. I could toggle the view by either selecting your favorite team or the venue. Then you can select the matches you want reminders to by checking on a box.
This is great as now can be notified by email or SMS. I could also download the entire season schedule as a PDF file. 🙂
I think the IPL has been really proactive this year in reaching out to people through the internet and also really making accessibility very easy. The easy method of buying tickets including allowing people access to information online which is customizable for your own needs is a great leap for Indian cricket administration.
My only wish is when a Test match series is plays or a ODI series for that matter would BCCI give people the same sort of friendly accessibility? I guess only time will tell.
For now regarding IPL, I guess we can say let the games begin. 🙂