India has had a rich history of Batsmen who had wrists of steel and footwork fancier than a gazelle. But they have always had a problem facing short balling and always had a issue with unearthing good fast bowlers. India has always suffered when fast bowlers gave the batting order some chin music but off late India has had the Dravids and Tendulkars to deal with the short stuff and manage.
But the T20 World Cup does not feature these old guys and we have new young breed of batsman who instead of playing a straight forward drive end up playing the scoop. The performance of our batsman must have left MS Dhoni popularly nicknamed as Captain Cool as Captain Clueless.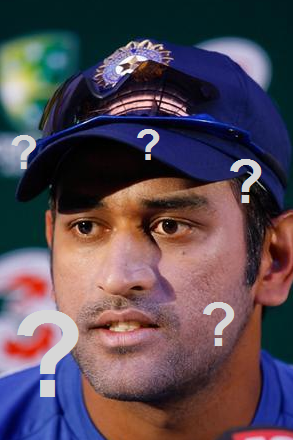 The curious case of being clueless
MS Dhoni won the toss on two occasions and decided that the pitch had a bit in it for the fast bowlers and so decided to bowl first to get early breakthrough. So far so good, but then India had two pacemen, one spinner and 5 part times spinners.
So India ended up opening the bowling with Harbhajan Singh a spinner and used up his three overs with the new ball on a seaming wicket. So what followed against Australia and West Indies was pretty similar that part time spinners went for sixes and fours all the time and the only respite was when the batsmen thought of taking it easy.
Strangely Indias big win against South Africa came while batting first and that was when Indian batsmen played out the new ball and hammered the older one.
India is pretty much out of the T20 World Cup and will have to beat Sri Lanka and hope that Australia beat West Indies. Too many ifs and buts and frankly not so good for us fans who like a straight forward victory march.
Dhoni is not to be entirely blamed for the bad show as some of the fancied names like Murali Vijay, Y Pathan and R Jadega have hardly made their presence felt.
When Ravindra Jadega bats at number 9 and bowls only 2 overs as a part timer then we are playing with 10 and a half players instead of 11. But then I did warn you that it is Captain Clueless who is picking the team. 😛