One of our most popular post was about the mock jersey for the new Pune IPL team. Well mock ups apart, Sahara the company which has the franchise rights for Pune's IPL team has revealed the name the IPL team will go by. So the team in Pune will be called Sahara Pune Warriors. It as also released the logo for the new team.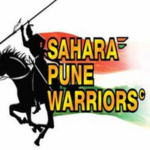 It is not surprising that Sahara chose to call the team Warriors as Pune was the capital of the Maratha Kingdom formed by the warrior clans in Maharashtra. The price tag of the team is some 370$ million, making it the most expensive in IPL.
The team will play its matches in a newly built stadium about 25 kms away from the main city.
So do you think they will rock the IPL next year. I guess we can make a better estimation after the grand auction of players later this year.
Link: Indian Express