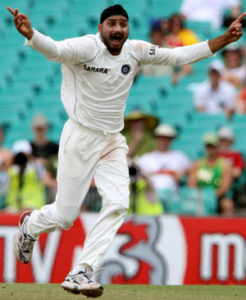 I think we saw a great Test match today between India and South Africa. Both teams were playing for the number one spot and rain on the fourth day had made it possible for South Africa to play for a draw, win the series and get the No 1 Ranking for Test cricket. But Indian team had other plans and Harbhajan Singh took 5 wickets to win India the match. India now hold on to their No 1 ranking.
I though it would be nice to look up what Harbhajan Singh does in Eden Gardens Kolkatta. Obviously he seems to relish bowling there as it is also the place where he took a hat trick against Australia way back in 2001. I thought about looking up some distinct statistics to see actually how much does Harbhajan actually love Eden Gardens in Kolkata.
It is incredible to be honest. He has taken 355 wickets in his career in 83 Tests that is a average of  4.27 wickets. Now compare it to 07 Tests and 46 wickets at Eden Garden in Kolkata. He has taken a astounding 6.5 wickets per Test in Kolkata.
On a lighter note India played in Kolkata since November 2007 and since then Harbhajan has had his form be a little on and off. I guess to get him back in the groove India should schedule more matches in Kolkata. What do you say?
Here is a table of comparison of how he has performed in Kolkata and his entire Career statistics.
| | | |
| --- | --- | --- |
| | Career Stats | Eden Garden's Stats |
| Tests | 83 | 07 |
| Overs | 3900.1 | 415.1 |
| Wickets | 355 | 46 |
| 5 Wkts | 24 | 6 |
| 10 Wkts | 5 | 1 |
| Winning Side | 35 Tests out of 83 | 4 Tests out of 6 |
Source of data is Cricinfo.com StatsGuru. Statistics were accurate on 18th Feb 2010.