No one can forget the great moments like when MS Dhoni and his boys lifted the T20 World Cup or more importantly the famous image of a beaming Kapil Dev lifting the Prudential World Cup from the Lords balcony. But sometimes in Cricket we have these odd funny moments which does make cricket become cricket. Below are different moments in cricket which might tickle your funny bone.
Javed Miandad and Dennis Lillee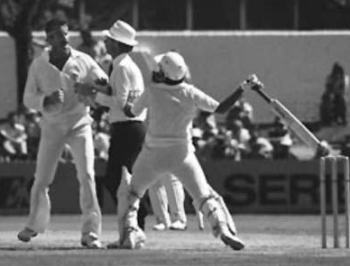 This happened many years ago. In a Test match between Australia and Pakistan, Lillee and Miandad were exchanging a lot of words. In one such exchange, Lillee mockingly kicked Miandad which led to Miandad waving his bat wildly, looking to have a go at Lillee. Thankfully as you can see the umpire decided to step in.
Attack of the bees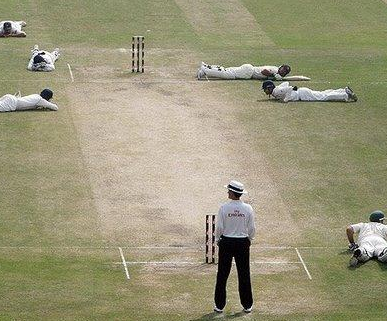 On the pitch a swarm of bees attacked the players. Umpire Billy Bowden I guess was wondering why everyone was lying on the ground. I guess within moments he realized his folly and hit the ground (see image below).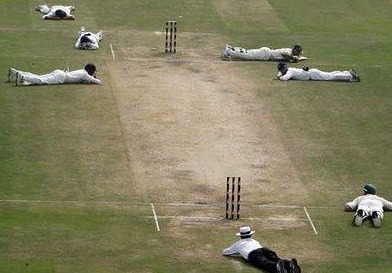 Politics in Cricket
I know that there is big debate in the Indian cricket if politicians should be allowed to run the game as administrators but looking at Lalu Yadav's unorthodox batting technique in the picture, all I can say is that he probably wont make it to the Indian team. 😛
Offside Field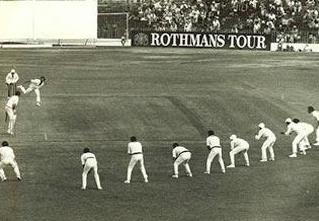 Having 3 or 4 slip fielders is not entirely a unknown sight but here in the picture above all the nine fielders are standing in the slips cordon. The bowler dare not send one down the leg side as it would be the easiest runs scored in cricket ever.
Howzzat?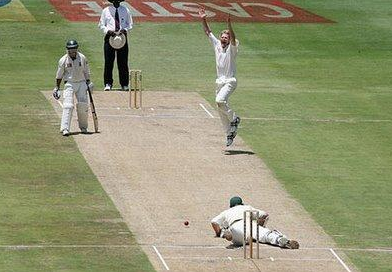 Shaun Pollock here seems to be celebrating something while the batsman looks like instead of getting out he passed out on the pitch.