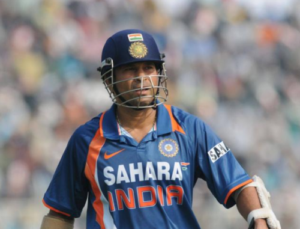 In Greek mythology a Titan is someone who is a giant. Giant not by size but by deeds who would their rule their domain with absolute power. The two titans Atlas and Hercules are legends of the mythical world. Hercules for beating the odds all alone with just his strength and wit along with Atlas who literally carries the world on his shoulders. Truly if the game of cricket was mythology then Sachin Tendulkar is a Titan.
Sachin Tendulkar's shoulder carry no less of a burden and he has often single handedly taken on odds we cannot imagine or identify with. But today in his 442nd One Dayer, with his 17,598th run and a good 100 runs after he had scored his 46th century, the little master that Tendulkar is, scored the first double century ever scored in international limited overs cricket.
He now owns the world record for most runs scored ever, most centuries ever and also the highest individual score ever. In both formats of the game Tendulkar his at the top and by miles. No player has dominated both forms in such absolute terms. At 36, Tendulkar is still breaking barriers and showing living up to the adage that 'Class indeed is permanent'.
At the time of writing this post Indian bowlers have responded well and joined the Tendulkar party by reducing South Africa to 151/7. Most people who love cricket be they Indian or not will agree that if someone deserved to break the 200 barrier in ODI's it was Sachin Tendulkar. If you want to watch the moment he scored a double hundred click here.
Tendulkar is towards the end of his career and when he retires his myth will live on. I say myth because his achievements are truly unreal and mythical. He is no celebrity but a hero. A mythical hero whose very name is enough to inspire future cricketers to awesomeness.